49 years ago, in the legendary pits of Riverside Raceway, a mechanic, known for his perfection, dreamed of one day owning his own automobile dealership - right here in California.  He dreamed of a dealership that would sell and service the finest luxury automobiles in America.  Well, that perfectionist was Walter Kienle who realized his dream right here in Riverside, where the cost of doing business is much less so Walter's can offer you a great price and even better value.
Walter's Automotive Group consists of Walter's Audi, Walter's Automotive (Mercedes-Benz), Walter's Porsche, and Audi Ontario. Click on one of the below to visit one of Walter's Automotive dealerships: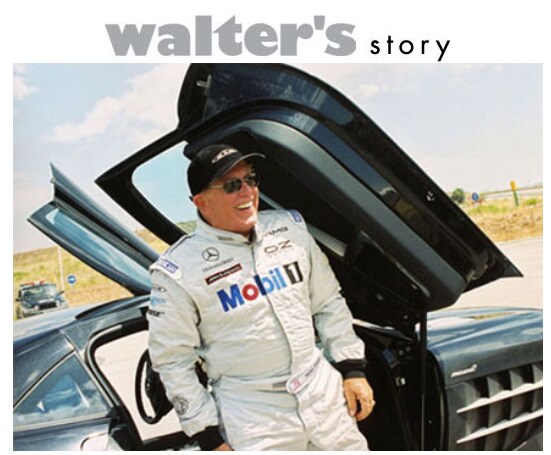 Incessantly driver to succeed, Walter Kienle catches his breath after an exhilarating ride in the 617hp, 207.5 mph Mercedes-Benz SLR McLaren.

Born in Germany to Swiss parents, Walter Kienle trained as a tool and die maker until he immigrated to the U.S. from Switzerland in 1948. Here, he worked as an automotive mechanic in Redding, PA until he felt compelled to join the U.S. Army to serve his new country.
Stationed at Fort Irwin in Barstow, Walter quickly earned his stripes as the top student in tank school and was quickly promoted to Staff Sergeant. As a non-commissioned officer (NCO) he earned privileges at the Marc Air Force Base NCO Club in Riverside, CA where he was first introduced to the mild weather and friendly charm of Southern California.
Upon his Sergeant First Class discharge, Walter moved back to New York where he opened an automotive garage, married and started his family. Longing for that California sunshine, he returned to Riverside in 1960, and opened Walter's Automotive Service with an emphasis on European makes.
Although Walter Kienle has always demanded his people work to the highest standards, he treated them well and earned their respect and loyalty. Many have built long careers at Walter's with several 40+ year veterans still working at the dealership today.
Based on his excellent reputation for service and technical skill, Walter's Automotive Mercedes-Benz service center in 1964 and an authorized selling dealer in 1965. Selling 10 new Mercedes in its first month, Walter's was immediately off to a great start. And as word spread and the popularity of Mercedes-Benz grew, Walter's grew right along with it.
With the only Dynometer in Riverside, Walter's dyno-tuning skill became the secret weapon of sophisticated racers from Riverside International Raceway (RIR) such as Dan Gurney a World renowned racer in the 1960s.
With its trained technicians and reputation for excellent service, Porsche asked Walter's to become an authorized dealer in 1992 where it now enjoys the status of being one of the top Porsche dealers in the U.S. In 2004, the Audi line was added as a natural extension of Walter's fine line of German automobiles. Over the past 40 years, Walter's has expanded 11 times to the multi-location auto group it is today.
Walter's son, Steve Kienle, joined the family business in 1979 and now serves as General Manager for all three dealerships. Steve and his wife Cathy proudly reside in the Inland Empire and have greatly expanded Walter's contributions to the community. The annual Walter's Children's Charity Golf Tournament is a tremendous success and has contributed nearly $1.6 million to the Loma Linda University Children's Hospital.
Far from the modest service shop originally opened, Walter's of Riverside has earned top Mercedes-Benz USA honors such as the Kundendienst Award for excellent customer service. Also, 2006 marks the third year Walter's has earned the Mercedes-Benz USA Best of the Best distinction, an honor given to only 10% of all Mercedes-Benz dealers.
Come visit Walter's of Riverside. We pride ourselves on upholding Walter's commitment and dedication to excellent customer service. And when you're here, say hello to Walter. He loves seeing old friends and making new ones.